Does Chinese Curry Have Coconut Milk in It?
Technically speaking, curries belong to India. These spicy wet or dry dishes — which should always have chilies — are not a part of traditional Chinese cuisine, although there are Indian restaurants springing up in China's larger cities.
But a map of East and Southern Asia readily shows that the cultures of these two giants collide, particularly in Thailand. This allows curries to leap into the cooking of overseas Chinese. In addition, Chinese restaurants in the West often add modified curries to their menu, further complicating matters.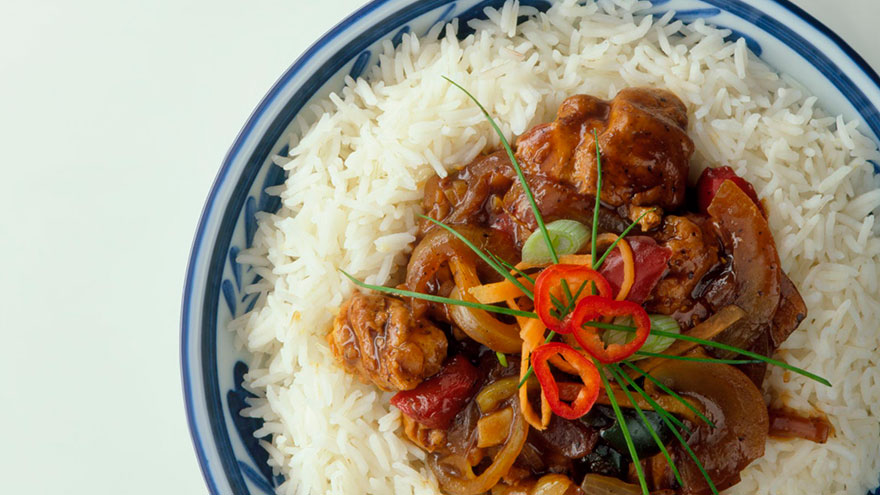 Coconut Milk
Coconut milk isn't the clear liquid in the middle of the coconut. That's coconut water, which you can enjoy drinking, of course.
Coconut milk comes from the grated flesh of a mature coconut, notes Charmaine Solomon in "The Complete Asian Cookbook," or from adding water to dessicated coconut. If you are in a rush, you can also use coconut milk from a can or a carton.
In Curries
Unsurprisingly, coconut milk shows up in curries in locations with lots of coconuts. That means that in Indonesia, you can partake of parcari, pineapple coconut curry. In Southern India, the coconut-bedecked coast loves the milk in dishes such as erachi vella curry, with lamb, green chilies, ginger and cinnamon.
The cuisine of Northwestern India though moves culturally closer to Persia, with an emphasis on yogurt-based dishes rather than coconut curries.
Worlds Clash in Hong Kong
A recipe for curried chicken in "The Chinese Chicken Cookbook" shows what happens in Hong Kong, where immigrants from India and Pakistan bought their curry recipes. Once adapted by Chinese chefs, the recipe for gah lei gai — curried chicken — underwent some significant modifications.
In came sugar, cornstarch, sesame oil, peanut oil and rice wine — classic Chinese ingredients — on to a base of curry powder, cayenne, onions, ginger, coriander and garlic, the Indian foundation.
Author Eileen Yin-Fei Lo notes that curries in Hong Kong, particularly those by Chinese chiefs "do not contain any coconut milk, a traditional ingredient." Still, they possess intense flavor. This sort of adapted "curry" appears elsewhere in Chinese restaurants in the West.
For a Stunning Coconut Milk Curry
Thailand rules the roost when it comes to coconut milk curries. You can go wild with coconut milk and Thai curry pastes, or nam prik kaeng, made from scratch or available ready mixed in small cans from Asian grocers.
Red, masaman, panang, sour, green and yellow curry pastes and coconut milk marry with varied dishes from seafood to beef.