What Is the Difference Between Manapua & Steamed Pork Buns?
In China they're called char siu bao, or roast pork bun. On the U.S. mainland they're steamed pork buns, and in Hawaii, the word is manapua, meaning pork cake or pastry.
Buns are popular snack foods in Chinese teahouses and dim sum parlors, Hawaiian food trucks and many grocery stores. While the Chinese and Hawaiian buns are very similar, they do differ somewhat. Think of manapua as a steamed pork bun with an island vibe.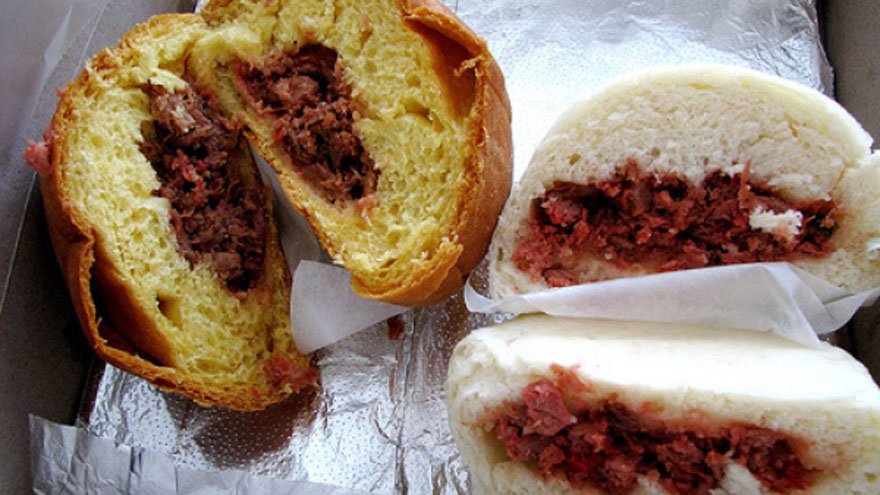 History
A Cantonese specialty, Chinese steamed buns are over 3,000 years old, while the manapua versions are much more recent.
When Chinese workers joined people from other nations to work on sugar plantations in Hawaii during the late 1800s, they brought their native cuisine with them, including steamed pork buns. Pigs had been brought to the islands earlier, when the early Hawaiians, or Polynesians, arrived, so the buns were easy to recreate.
Fillings
By definition, steamed pork buns contain pork in one version or another. In China, the buns frequently contain pork butt that has been marinated and roasted. Manapua, on the other hand, contain a wide variety of fillings, including the Hawaiian favorite, spam.
One local restaurant offers the traditional pork, but also chicken, Indian curry, Portuguese sausage, hog dog, vegetarian, coconut and Okinawan sweet potato fillings, fillings as varied as the people of the Hawaiian Islands.
Size
Manapua in Hawaii are typically larger than steamed pork buns you find elsewhere, but proportions vary according to each cook's preferences.
A Chinese-style steamed pork bun usually contains a little over 1 tablespoon of filling, while a manapua will have twice that amount. However, some Chinese and Hawaiian buns are much larger, with up to 1/ 4 cup of filling.
Cooking
Both manapua and roast pork buns appear in steamed and baked versions, but the Chinese buns are more likely to be steamed rather than baked. Steaming the buns takes 12 to 15 minutes, while baking in a 350-degree-Fahrenheit oven takes about 20 minutes.