How to Make a Stir Fry With Bok Choy & Vegetable Stock
Stir-fries make quick and easy weeknight dinners, typically giving you plenty of vegetables and minimal clean-up, since everything cooks in the same pan.
Since bok choy, also called pak choy or Chinese white cabbage, is available in most grocery stores, it make sense to use its combination of crisp stems and soft leaves to add an authentic Asian element to a cooking method long associated with Asian cuisine.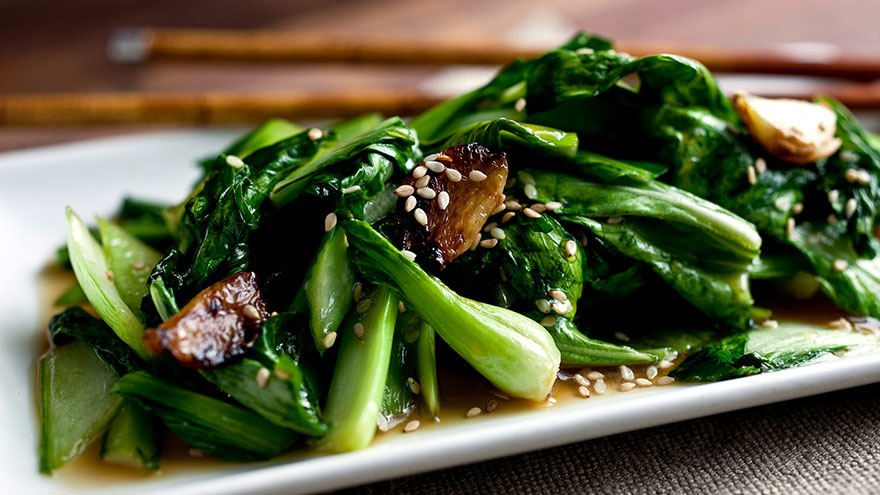 Star of the Show
It doesn't matter whether you use baby bok choy or a full-grown bunch, but freshness does make a difference.
The leaves on either type should be crisp, as opposed to sagging, and totally green without any yellowing around the edges. Look for stalks that are firm, without cracks or browning. Wash the bok choy as you would leaf lettuce, swirling it in cool water, and use both the stalks and the leaves, cutting them into pieces about 1/2-inch thick.
Co-Stars
Because bok choy is mild-tasting, with an interesting slightly bitter undertone, it pairs well with a variety of other vegetables. Choose from asparagus, broccoli, carrots, mushrooms, snow peas, red peppers or zucchini, but limit yourself to only two choices beyond the bok choy to keep the flavors in the stir-fry from becoming too confused.
Add either noodles or rice and seasonings or garnishes such as chili powder, cilantro, ginger, sesame seeds, rice vinegar and soy sauce.
Vegetable Stock
While you can easily find vegetable stock on grocery shelves, it typically has an off-putting flavor that will add nothing to your stir-fry. Making your own stock gives the final product a fresher taste and a more satisfying background for the fresh vegetables in the stir-fry itself.
Taking much less time than a meat stock, vegetable stock cooks in about one hour and typically includes chopped onions, carrots and celery along with herbs such as thyme, oregano and bay leaves.
Cooking the Vegetables
While using a traditional wok makes cooking fun, a large skillet actually comes into contact with more direct heat on Western-style stoves and allows the food to brown more reliably.
Cook vegetables in batches, beginning with those that have longer cooking times, such as mushrooms or onions, and removing them before adding the bok choy and quicker-cooking vegetables. Add ginger and garlic last and then remove all the vegetables to a separate bowl.
Final Stages
Adding 1 teaspoon of cornstarch for each cup of stock before heating it gives your stir-fry a consistency that is neither too thick nor too thin. Small amounts of soy sauce, fish sauce, rice wine, Asian chili sauce and sesame oil add additional flavors to the sauce and give the final dish a balance of sweet, salty, sour and bitter tastes.
Heat the sauce in the pan until it begins to thicken and add the vegetables back in to reheat.