Delicious Mongolian Beef Recipe
While some Chinese restaurant dishes are notoriously difficult to replicate at home, Mongolian beef is not one of them. The meat dish requires only a tangy brown sauce made from Asian staples, which flavors sliced steak and a few vegetables. Better yet, you have the option to saute the meat in a skillet over medium heat — rather than the intimidatingly high flames you see in your favorite Chinese take-out kitchens.
Ingredients
Garlic
Ginger
Scallions
Canned baby corn (optional)
Sliced flank or sirloin steak
Regular or low-sodium soy sauce
Sherry
Hoisin sauce
Sugar
Cornstarch
Rice vinegar
Chili paste
Peanut oil
Directions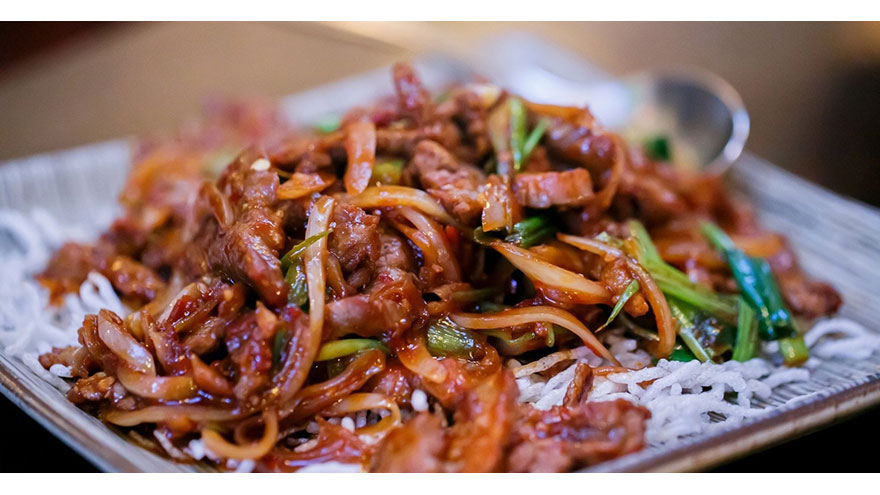 1. Peel and mince a small amount of garlic and ginger. In addition, chop a few green scallions so that they are about 3 inches long. If you are using baby corn, rinse and drain the canned ears.
2. Whisk together the flavoring sauce by combining roughly 6 parts soy sauce, 2 parts each sherry and hoisin sauce, and 1 part each sugar, cornstarch, rice vinegar and chili paste.
3. Heat a couple of spoonfuls of peanut oil in a sturdy, non-stick skillet on medium-high heat.
4. Add the beef, garlic and ginger in the pan and saute the pieces for about 2 minutes, or until the beef browns.
5. Add the scallions and baby corn, if using, and saute the pan's contents for another 1 minute.
6. Pour in the flavoring sauce and continue to stir the contents of the pan. Remove the Mongolian beef from the heat when the sauce has thickened and adhered to the ingredients.
Tips and Warnings
Serve Mongolian beef over steamed white rice or cellophane noodles.
If your pantry is a bit bare of such staples as hoisin sauce, follow the lead of restaurant chain P.F. Chang's and focus on soy sauce, sugar and rice wine, along with cornstarch for thickening.
You may choose to emulate Chinese restaurants by cooking the beef in a larger amount of oil and at a higher heat. If you do so, make sure to use oil with a high smoking point, such as peanut oil, and to use a sturdy skillet or wok.
It's also prudent to cook the components of the dish in batches when stir-frying at high temperatures so that you can keep an eye on them during the hotter, quicker cooking.