Start to Finish: 30 minutes
Servings: 4
Difficulty Level: Intermediate
Nasi goreng is the traditional fried rice served throughout Indonesia. From home kitchens to outdoor street stalls, nasi goreng is spicy, warming and hearty.
It can also be customized to suit any number of tastes, ranging from rich in fresh seafood to healthy vegetarian versions. This recipe, adapted from Canadian Living and Saveur, uses shrimp and fish and is only mildly spicy.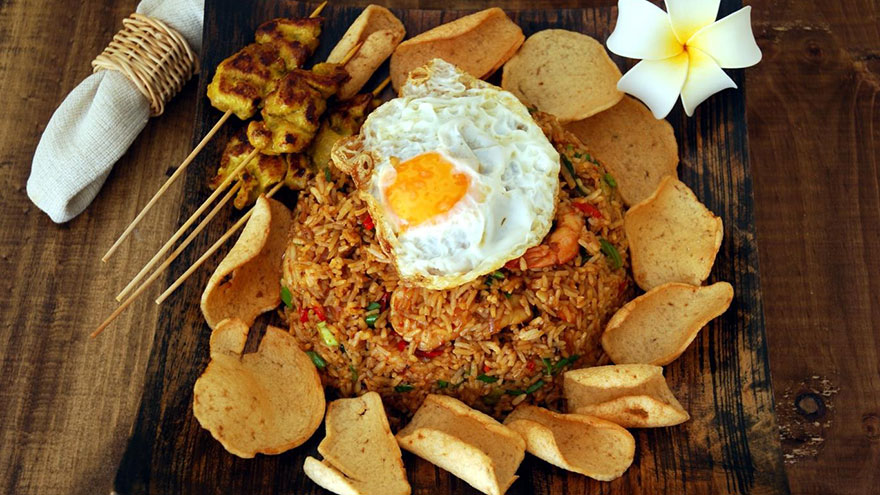 Ingredients
4 tablespoons canola or peanut oil
2 eggs, beaten with 1 teaspoon sesame seed oil
1 tablespoon fresh ginger, grated
4 cloves garlic, minced
1 teaspoon dried cumin seeds, whole
1 medium white or yellow onion, chopped
1 teaspoon dried coriander, ground
1 to 3 teaspoons sambal olek or minced Thai chili peppers
1 cup boneless, skinless white fish, cut into strips
1 1/2 cups shrimp, thawed and peeled
4 cups cooked white or brown rice
3 tablespoons soy sauce
2 teaspoons rice vinegar
3 tablespoons honey
1 cup green onions, thinly sliced
1/2 cup carrot, shredded
1/2 cup sweet red peppers, sliced
3 cups fresh spinach, chopped
2 teaspoons white sugar
Water
Salt
1 cup English cucumber, sliced
Directions
Warm a nonstick pan on medium-high heat, and add 1 teaspoon of canola oil. Cook the eggs in 1 layer, until the top is fully set.
Tip
Cover the pan with a lid to speed up cooking and to ensure the top is fully set.
Remove the egg from the heat and cook the ginger for 2 minutes in the empty pan. Add 1 tablespoon of oil, the garlic, the cumin seeds and the chopped white onion to the pan and cook until the onion is translucent.
Stir the ground coriander and the sambal olek or chopped chilies into the pan ingredients, and cook for 1 minute. Add the shrimp and fish to the pan, cooking until almost just cooked, roughly 2 minutes.
Tip
The shrimp will turn pink and the fish will become white as they cook. Both will curl and firm up when they are cooked. Undercooking is better than overcooking, as the seafood will continue cooking once it is removed from the heat.
Set the shrimp, fish and aromatics aside in a separate bowl. Raise the heat to high and add the final 2 tablespoons of oil to the pan. Add the rice when the oil begins smoking. Flatten the rice so the entire base of the pan is covered.
Tip
Using cold cooked rice, at least a day old, will lead to less sticky grains and better crisping and browning during cooking.
Chop the cooked egg, roughly, into 1/2-inch-size pieces. Turn the rice after 2 to 5 minutes, when the grains become crispy.
Add the soy sauce, rice vinegar, honey, sliced green onions, grated carrot and sliced red peppers to the rice, tossing to mix thoroughly. Add the egg, fish, chopped spinach and seafood to the rice, and season with salt and sugar to taste.
Cook until the spinach has wilted and turned dark green. Remove from heat and let rest 5 minutes before serving immediately with several cucumber slices on the side of the bowl.
Tip
The cucumber can be replaced with slices of
daikon
radish or any other cooling, crisp vegetable. The raw vegetables provide relief from the spiciness of the dish.
Variations
For vegetarian nasi goreng, substitute the shrimp and fish for firm or extra-firm tofu. For a contrast in textures, use chunks of deep fried and fresh tofu. You can also increase the variety and amount of vegetables used.
Other possible additions include:
Bean sprouts
Zucchini
Thai eggplant
Baby bok choy
Both beef and chicken — white or dark meat — can be used in place of, or in addition to, the shrimp, fish and vegetables. Cut the meat into 1/2-inch cubes or smaller. Ground meats can also be used.
For a citrusy, albeit nontradtional, variation on nasi goreng, add chopped lemon grass and shredded kaffir lime leaves to the aromatics and spices.
Instead of using beaten eggs, serve nasi goreng plated, with one sunny-side-up fried egg per person. Place the fried egg over the portion of nasi goreng, and drizzle with a little soy sauce before serving.
Replace the rice with rice noodles — fry them as well — to make a variation called bahmi goreng.