Manchurian is a dish made with deep fried vegetable balls that are served with a vegetable gravy. It is considered Indo-Chinese cuisine, a food that was originally Chinese but has been manipulated to serve an Indian pallet.
The Chinese versions tend to be a little less spicy.
Things You'll Need
2 cups grated carrots
2 cups grated cabbage
Bowl
2 tbsp cornstarch
2 chopped green chillies
Salt to taste
Wok
Oil for deep-frying
Pan
2 tbsp oil
1 chopped spring onion
3-4 crushed garlic flakes
1 tsp pepper
Pinch of ajinomoto
1 tsp sugar
1 tbsp soy sauce
2.5 cups vegetable stock
1/2 cup cold water
Instructions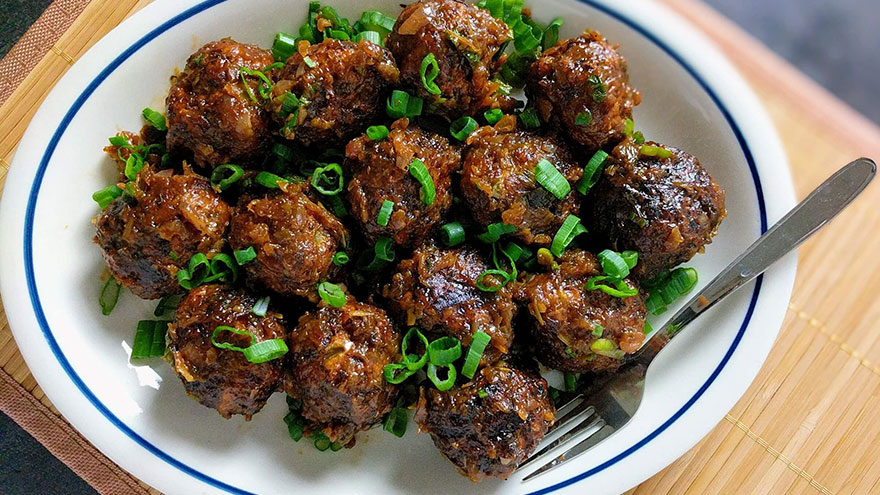 Mix carrots and cabbage in a bowl. Squeeze the water out of them.
Add a few chillies, a pinch of salt and a tbsp of cornstarch to the carrot and cabbage mixture.
Make small balls out of the mixture.
Heat the oil in the wok and deep fry the balls until they are golden brown. Remove the balls from the oil.
Heat the 2 tbsp of oil in a separate pan and saute the spring onions, garlic and green chilies.
Add vegetable stock, pepper, ajinomoto ( powdered MSG), sugar, soy sauce and salt to the pan, and bring it to a boil.
Mix 1/2 cup cold water with 1 tbsp of cornstarch and stir into pan.
Add fried balls to pan and let simmer for 3 to 4 minutes.
Tips & Warnings
The dish can be garnished with chopped coriander