Pancit lomi is a Filipino noodle soup that has as many variations as there are cooks preparing it. The main ingredients which make this rich and savory soup different from other chicken soups are the thick, sticky noodles, thin slices of crisp, fried pork or chicken livers and a rich broth thickened with beaten egg and cassava flour.
As with most comfort foods, you can substitute ingredients from your pantry or fridge for things you may not have on hand.
Things You'll Need
Olive oil
Pork, julienned
Chicken livers, sliced
Garlic, minced
Onion, julienned
Carrots, julienned
Chili peppers, julienned
Noodles
Chicken broth
Salt
Pepper
5-Spice mix
Soy sauce
Eggs
Cassava flour
Kikiam, sliced or squid balls
Green onions, diced
Chili sauce
Instructions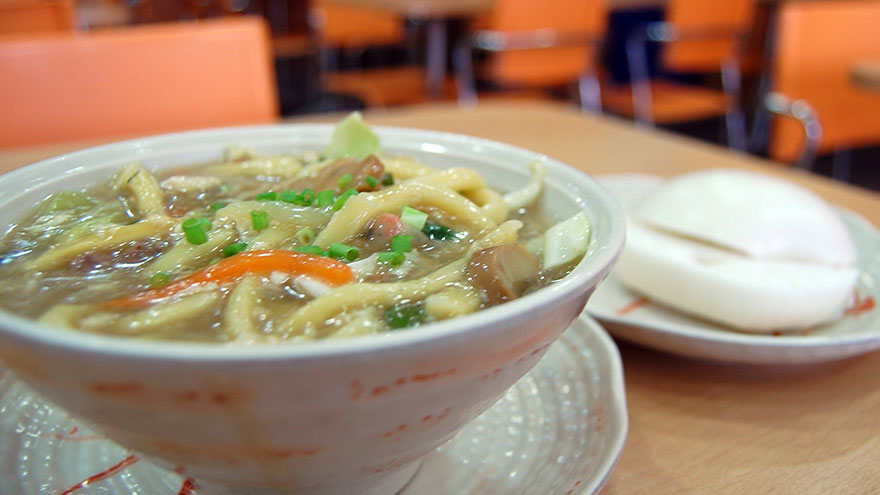 Coat the bottom of a deep skillet with olive oil and heat it over medium heat until the oil starts to shimmer. Canola oil, peanut oil or vegetable oil will also work.
Cook the pork strips until they are golden brown and crispy. Remove them to a bowl.
Cook the sliced chicken livers in the same pan until they are golden brown and crisp. Remove them to the same bowl as the pork. If you would rather not use pork or chicken livers at all, substitute diced chicken.
Add the onion and garlic to the same pan. A good ratio is 3 to 6 cloves of garlic for each medium onion. Stir them to coat them with the oil and drippings, and sauté them until the onion is soft and translucent.
Stir the carrots and chili peppers into the onions and garlic. Use 1 medium carrot and 2 mild chili peppers for each medium onion. If you want a bit more of a kick, add a slice or two of a hotter type of pepper.
Rinse your noodles if you are using authentic salted-and-oiled Filipino noodles. Otherwise, udon noodles or other pasta that is not dried will work. If all you have is flat egg noodles or other dried pasta, boil it until it is not quite cooked, and drain it first.
Add the noodles to the pan and cover them with enough broth to have at least 1/2 inch or so extra on top. Season the noodles with salt, pepper and 5-Spice mix to taste. Cook the noodles until they are limp and soft.
Beat two eggs in a small bowl until they are thoroughly blended. Slowly whisk in a tablespoon or so of cassava flour that has been mixed with enough water to make a thick liquid. Use equal amounts of cornstarch and water if you don't have cassava flour.
Stir the egg mixture into the simmering noodles, vegetables and broth and stir to thicken the soup.
Add the pork, chicken livers and kikiam or squid balls. Kikiam is sort of like an egg roll, and it gives the pancit lomi a bit of texture as well as adding flavor. Squid balls are a bit like crab cakes. Both can be found at specialty Asian markets.
Serve the pancit lomi in deep bowls with sliced, hard-boiled eggs, chopped green onions, chili sauce and soy sauce.
Tips & Warnings
Make your pancit lomi with mushrooms and vegetable broth instead of chicken or pork livers and chicken broth for a tasty vegetarian version.
Never guess at whether pork or chicken livers are cooked to a safe temperature.